Well, I should start this off by talking about myself a little, but that's all in my profile, and is kind of boring. I'd rather talk about Tippytoes, one of my Italian Greyhounds. (btw, if you want to know all my bio details, which are mainly about my dogs anyway, you can see my bio on my website.)
I was very very excited on January 23 of this year when it was our one year anniversary. It was one year ago that day that Tippy came to me as my first foster I.G. Of course, she stayed. ;)
Less than a week later, on January 31st, I rushed Tippy to an emergency vet appointment. Long story short, she was diagnosed with a liver shunt, a congenital problem. The only way to fix a liver shunt is thru major surgery. Tip had her surgery on Feb. 16th and it was a long one, almost five hours, I believe. Tippy had to stay in ICU for four days. :( It was rough being away from her. It was the first time we'd been separated since the first day I saw her...
But we knew it was in her best interest to not be rushed home and to wait til' she was stable enough. The week following the surgery for me was the worst. I slept on the floor on a futon mattress with Tippy, and I was pretty much just her nursemaid 24-7. I did basically nothing but take care of her full time for almost two weeks of recovery. It was totally worth it though. She deserves it too.
From the time I met Tippytoes, my life changed. She is so special. Everyone who has met her can attest to that. There's just something about her. I think it's that she is so small, appears so fragile, but is so tough and never gives up either her strength or her hope. I was told by an animal communicator that Tippy was "looking" for me for quite awhile. When I got her, and esp. when the surgery happened, I really found that easy to believe. I don't know what we'd do without each other.
Sure some people might just say "but she's only a dog"...but then again, those people haven't met her. She's so NOT just a dog. She never will be. I truly believe she's a little angel, sent here in a 7 lb. dog's body to watch over me and everyone she meets. Tomorrow we go for our CGC/TDI testing and hopefully we'll pass. What that means is that Tippytoes and me will be a certified therapy dog team and will be able to visit hospitals, nursing homes, hospices, etc. and hopefully can make a lot of unhappy or unwell people feel a little better, if only for a few minutes a day. Besides my art, I really think that's what I'm meant to do with Tippy. She's such a great inspiration. If (when!) we pass the tests tomorrow, she'll have gotton the certifications less than two months after a major surgery...that's pretty impressive, I'd say. She's a lucky girl, but we're even luckier that she found us and made our lives so wonderful.
Since last year Tippy's "dad" has been living and working in NYC during the work week, but he comes home to see us every weekend. He's the best. Really, without him, I wouldn't have Tippy, or Velocity or Bailey, or any of our other furry children. But I especially appreciate how much he's helped Tippy. I could've never afforded her surgery alone. In the end (or so far, you could say...since there are still more tests to do) this little girl has cost us about 5 grand in the past two months. She's worth every penny and more though. I wouldn't be painting now if it wasn't for her. I'd probably still be in a job I hate, letting my talent as a painter go to waste, really. She is now and will forever be my muse.
Here's my man with Velocity, our first i.g. who joined our family in March of 2001.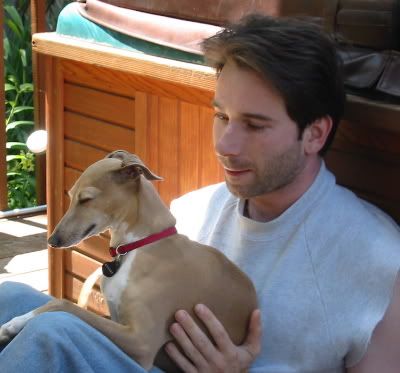 one more: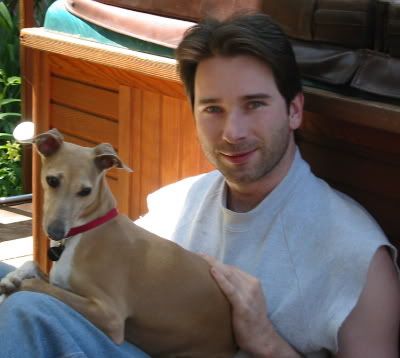 Here's Tippy the day after her surgery...how sad is this???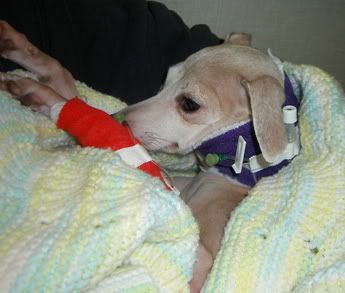 last one for now...This is Pinky with Rusty, his special little i.g. girl
(love this pic!)